Shhhh… Be very quiet, and you just might spot one. The fairies have landed at Gardner Village! The warmer weather has these magical creatures coming out from their winter hibernation. Look high. Look low. See if you and your kiddos can spot our enchanted residents. With tiny houses and bitty scenes in our center court area and around every turn, you'll make big memories that will last long after the fairies have taken flight for the summer.

View our enchanting Woodland Fairy photo gallery here.
Experience the magic of the Woodland Fairies at Gardner Village April 14 through June 23, 2018.


VILLAGE-WIDE ACTIVITIES
---
FAIRY DANCE PARTY
Hey, Twinkle Toes! Ready for some serious flight of fancy? Gardner Village is teaming up with @Housewife2Hostess for the first annual Fairy Dance Party! Wear your wings, dawn that floral crown, and do your best to keep those pom-pom adorned dance shoes grounded as your excitement takes flight. It's time to dance the night away under the stars at Mill Plaza in the heart of Gardner Village. All fairies ages 18+ are invited to this enchanting soiree. Come with your BFFs - best fairy friends - and make magical memories together. With fairy themed photo opps, refreshments from Archibald's Restaurant and Naborhood Bakery, swag bags, and more, all included in the price of your ticket, this is one pixie party you won't want to miss. Reserve your spot early, as this event will sell out.
Buy tickets:
here.
Dates:
Friday, June 1st and Saturday, June 2nd 2018 starting at 6:30pm.
Cost:
$30 per person.
---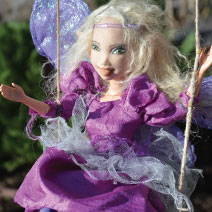 WOODLAND FAIRY DISPLAYS, A TO Z FAIRY QUEST, WISHING BRIDGE, FIND YOUR FAIRY NAME AND FAIRY WING PHOTO OPPS
Spring has sprinkled its magic over Gardner Village, and the enchanted residents are waking from their winter slumber to play! The Woodland Fairies are up to their shenanigans and frolicking throughout the village. Whether you come with the family or make a date out of it, strolling through the whimsical fairy wonderland is sure to spark your imagination this spring. Enjoy our A to Z Fairy Quest, Wishing Bridge and Find your Fairy Name game. While you're here, don't forget to visit all of our painted fairy wings for some awesome photo opps!

Dates: Monday-Saturday, 10am-8pm, April 14th-June 23rd 2018.

Cost: FREE
---
FANTASY HALF MARATHON, 10K & 5K RUN
Spread those wings, it's time to fly! Just in time for the Woodland Fairy Festival at Gardner Village, we're hosting the magical Fantasy 5k Fun Run organized by On Hill Events on Saturday, May 5, 2018. So sprinkle on a little fairy dust, grab your wings (or enjoy a complimentary set on race day—fairy wings and shirt for the ladies; bug shirt and antennae for the guys), and let your running fantasy take flight.
Date:
Saturday, May 5th 2018.
Cost:
Find more details and register with On Hill Events
here.
---
MOMMY AND ME FAIRY TEA PARTY
Calling all fairies from far and away! Join us for a Mommy and Me Fairy Tea Party in the enchanted mill at Gardner Village. Enjoy delightful tea sandwiches and crudities along with our little tea cakes and your choice of teas (special tea for your little ones). Your little fairies will also receive a special surprise gift to take home. Dressing up is encouraged! Book your tickets early, as this event will quickly disappear!
Buy tickets:
here.
Dates:
Saturdays, April 21st, April 28th, May 5th, May 12th, June 2nd and June 9th 2018 from 11am to 1pm. Doors open at 10:30am.
Cost:
$24 per person.
---
SHOP ACTIVITIES AND CRAFTS
*Activities begin April 14th and end June 23rd. Some activities may require preregistration.
---
FAIRY PARADES, FACE PAINTING AND FAIRY BRACELETS at Spoiled Rotten
Every Saturday from 12-2pm. Parade leaves at 1pm. $5 for face painting and fairy bracelets.


FAIRY GARDEN CLASSES at Aunt Elsie's Trinkets & Treasures
Fly in and make and take a fairy garden for $10 on Saturdays. Or create larger fairy pots for $30, with a reservation. Call 801.561.5557 to book your spot.


FAIRY STORY TIME at Storybook Nook
Every Saturday from 12-2pm.


EXPLORE FAIRY HOLLOW, COLOR WINGS AND CREATE FAIRY TREASURES at Georgell Doll Shop
Monday-Saturday from 10am-8pm. $5 per person. Real fairies fly in every Saturday.


THE GREAT FAIRY ESCAPE ROOM at A Great Escape
Monday-Saturday from 10am-8pm. 20-minute room with new sessions every half-hour. Up to 8 people per session. $10 per person. Book your escape room here.


FAIRY MAKEOVERS at Cottage Retreat Spa & Salon
Monday-Saturday. Services include fairy nail and toe painting, hair styling, make up and face painting, temporary tattoos and hair tinsels. Prices vary based on service. Walk-ins are welcome or call 801.352.8636 to reserve your spot.


FAIRY WAND MAKING at The Art Cottage
Monday-Saturday from 10am-8pm. $5 per wand.


FAIRY DUST & BATH BOMB CLASS at M Soaps
Fairy dust available Monday-Saturday 10am-8pm. Bath bomb class every Saturday from 12-3pm. $5 per person.


FAIRY POM POM GARLANDS at Willow Hill Yarn Company
Monday-Saturday from 10am-8pm. $5 per kit. Take home or make in-store.


FAIRY PEG DOLLS & FAIRY SEWING CAMPS at Pine Needles
For dates and to register, please call 801.233.0551.


FAIRY SOUVENIR T-SHIRTS at Shopaholics
Monday-Saturday from 10am-8pm.