SEPTEMBER Events & Sales
Select a month to see what's happening at Gardner Village.
JANUARY
FEBRUARY
MARCH
APRIL
MAY
JUNE
JULY
AUGUST
SEPTEMBER
OCTOBER
NOVEMBER
DECEMBER
---
LABOR DAY WEEKEND SALE
Gardner VillageSep 01, 2018
Thru
Sep 03, 2018
Driving all over town and facing crowds only to find a few sale items can be, well, work. Take the labor out of your Labor Day weekend with one convenient stop at Gardner Village for all of your shopping needs. You'll discover sales on clothing, toys, gifts, home decor, furniture and more. Best of all, our shops are all locally owned, so you're supporting small business while having big fun. Top off your sale seeking with a relaxing meal at Archibald's Restaurant or Naborhood Bakery & Cafe. After all, a holiday weekend should feel like anything but work. Shops the sale Thursday, Friday, Saturday and Monday from 10am to 8pm all four days.
---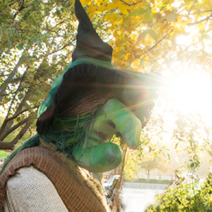 WITCH DISPLAYS & WITCH SCAVENGER HUNT
GARDNER VILLAGESep 15, 2018
Thru
Oct 31, 2018
The broomsticks have landed and the witches have set up shop. Take a witchy walk through Gardner Village to see our green-faced gals on display Saturday, September 15 to October 31, 2018. Which witch is which? Print a Scavenger Hunt form to hunt for our cackling cuties. See how many you can find and snap a few pics of your scavenger shenanigans to share using hashtags #gardnervillage and #findawitch. We'd love to see you on the Halloween scene!
---
BREAKFAST WITH A WITCH
THE GATHERING PLACESep 28, 2018
Thru
Oct 27, 2018
Hurry! Hurry! Step Right Up! Join us for the Greatest Fun on Earth! The Gathering Place at Gardner Village presents "Carnival of Witches" Breakfast with a Witch. Enjoy a warm breakfast buffet featuring fresh fruit, sausage, pancakes, eggs, potatoes, orange juice, hot cocoa and coffee. Mingle with our Gardner Village Witches, take photos, get autographs and watch them perform their witchy tricks along with some of our audience on the stage of wonder! Select dates in September and October. Regular Seating - $14.50 and VIP Seating $16.50. Tickets go on sale at noon on August 1, 2018.
---
WITCHAPALOOZA
THE GATHERING PLACESep 28, 2018
Thru
Oct 30, 2018
Wondering what to put in your "trick-or-treat"bag this year? For a real treat, grab your ghoul-friends, or boyfriends, dawn your witchy costume and make plans to attend "Bewitched, Bothered, and Bedazzled," the fun and exciting show at Witchapalooza Dinner Theater. Enjoy a tasty meal, as you fill your belly with laughs and celebrate the witchy fun of October. Featuring some of Utah's top musicians and actors, this show has sold out for 10 years running! Tickets start at $21.50 for show only, and $35.50 for show with dinner. Tickets go on sale Wednesday, August 1, 2018 at noon. Be sure to get your tickets early, so you won't be left out in the dark.
---