Gardner Village Events & Sales
Select a month to see what's happening at Gardner Village.
JANUARY
FEBRUARY
MARCH
APRIL
MAY
JUNE
JULY
AUGUST
SEPTEMBER
OCTOBER
NOVEMBER
DECEMBER
FLEXSTEEL UPHOLSTERY SALE at CF Home at Gardner Village
Sep 01, 2015
Thru
Sep 12, 2015
If you've been dreaming of beauty, quality and comfort, then Flexsteel is your dream come true. Plus, with their new power recliners, you can adjust them to fit like a dream. From August 31st to September 12th, all Flexsteel purchases -- in stock and special orders, are 40% off list price. Let your friends at CF Home help you design your seating arrangement. They can assist in helping you choose between the many fabric and leather options that suit you and your home.
---
FALL SALE at CF Home, Down to Earth and The Village Quilt Shop at Gardner Village
Sep 01, 2015
Thru
Sep 26, 2015
The colorful leaves will be falling which makes autumn the ideal time to treat yourself to a carefree day of shopping, dining and discovery. Wind your way through the Village and find savings on the most beautiful new collections of furniture, rugs, bedding and home accessories at CF Home, Down to Earth and The Village Quilt Shop during their annual Fall Sale. Fall is a great time to make your home more beautiful for the holiday entertaining ahead. While you're here, stop by Archibald's Restaurant or Naborhood Bakery and enjoy lunch, dinner or a sweet treat to top off your day! Shop and enjoy this cool and cozy season with us.
View our Fall Sale catalog
here
.
---
BE-WITCHED BOO-TIQUE at Kamilles at Gardner Village
Sep 01, 2015
Thru
Sep 30, 2015
Kamille's Bewitched Boo-tique has flown in to Kamille's main floor. Kamille's will be occupying upstairs of their cute cabin until the end of October. Come by see all their fun witchy wear, make sure you pick up some of their amazing yarn or take a fun class!!
---
SWEET REWARDS at Chocolate Covered Wagon at Gardner Village
Sep 01, 2015
Thru
Sep 30, 2015
Love gourmet caramel apples? Lucky you! Chocolate Covered Wagon at Gardner Village has a rewards program with their Gourmet Caramel Apples. Buy 12 of their Gourmet Caramel Apples and receive the 13th caramel apple for FREE. This offer has NO expiration date. (The Apple Card Rewards Program is not valid with any other special, discount or coupon). They're also having another special offer for fudge. Purchase 1 pound of fudge and get 1/4 pound of their bulk fudge for free. Take advantage of even more free samples by getting some Country Caramel and a sample of their famous Old Fashioned Salt Water Taffy. How sweet is that?
---
WITCHES WARDROBE at Shopaholics at Gardner Village
Sep 01, 2015
Thru
Sep 30, 2015
Feeling witchy? Witches Wardrobe is coming to Shopaholics August 15th through Halloween. Shopaholics is opening their closet with hats, costumes, capes and more. These clothes will be located inside Shopaholics, near the main center court area of The Village. Fly in for great buys and selection!
---
PETTING ZOO & PONY RIDES at The Farm at Gardner Village
Sep 01, 2015
Thru
Sep 30, 2015
The Farm at Gardner Village is open year round! Giddy up and get up close and personal with some of your favorite farm animals at this fun petting zoo or take a hand-led pony ride. Pony rides start at $5 and the petting zoo is $5. Adults are free with a paid child. You'll find Free Food Fridays at this quaint petting zoo. Bring canned food on Fridays for the Utah Food Bank, and receive a bag of free food for the animals. Fall 2015 hours are 10 am to 8 pm, Monday through Saturday, weather permitting. Hand-sanitizing station available. For more information, contact The Farm at 801.706.8189.
---
PRINCESS PACKAGES at Cottage Retreat Spa & Salon at Gardner Village
Sep 01, 2015
Thru
Sep 30, 2015
Pamper your little ones or create a magical birthday party with Princess Packages at the Cottage Retreat Spa & Salon. These enchanting packages include manicures, pedicures, facials and hairstyles for girls ages 12 and under. Packages start at just $30 per child and provide a magical memory that will last a lifetime. Call 801.352.8636 to schedule your appointment or party.
---
BACK-TO-SCHOOL PHOTOS at Camera Shy at Gardner Village
Sep 01, 2015
Thru
Sep 30, 2015

Capture the moments with your children at Camera Shy Photography, Gardner Village's on-site photo studio. Receive up to 60% off special back-to-school packages through September 30th with any photography session. Call 801.566.2127 to book your session today.
---
SPRAY TAN SPECIALS at Cottage Retreat Spa & Salon at Gardner Village
Sep 03, 2015
Thru
Sep 30, 2015
Summer's on its way out, but your tan doesn't have to leave with it. Cottage Retreat Spa & Salon is excited to now offer the all-natural, organic and paraban-free South Seas Spray Tan. Treat yourself with the spray tan of choice for shows like Dancing with the Stars, Modern Family, True Blood and many more. As a part of the launch, Cottage Retreat offers South Sea Spray Tan through single spray tans, spray tan 3-packs or a new monthly membership program for unlimited tanning. Call today to schedule an appointment. 801.352.8636.
---
TEA PARTIES at Georgell Doll Shop at Gardner Village
Sep 04, 2015
Thru
Sep 07, 2015
When was the last time your little girl dressed for a tea party? Let your little ones indulge at
Georgell Doll Shop's
Dolly & Me Fairy Garden Tea. Tiny Desserts on tiny dishes and a fairy doll to take home. Dress up hats and aprons are available for proper tea attire. All served on our fairy garden patio with a collection of fairy houses to explore. Tea is served every Friday and Saturday from 11 am to 4 pm June 5th through Labor Day, September 7th. $20 per guest. Reservations are encouraged for a fun, fanciful afternoon, and walk-ins are welcome based on availability. Call Georgell Doll Shop at 801.561.1485 for information and to make reservations.
---
WASATCH FRONT FARMERS MARKET at Gardner Village
Sep 05, 2015
Thru
Oct 31, 2015
The Wasatch Front Farmers Market is excited to make Gardner Village home for its 4th year during 2015! The market will be held every Saturday, June through October from 9am-1pm. A typical day at the market is filled with live music, 50 local farmers, artists and food processors, kids' activities, face painting and much more. This isn't just a farmers market, it's a destination that supports local entrepreneurs and the community in your backyard.
For more information or to become a vendor, please visit Wasatch Front Farmers Market's
website
.
---
BIRTHDAY PARTY at The Farm at Gardner Village
Sep 07, 2015

This is a birthday party like no other! Gary, The Farm's alpaca, turns 1 on September 7th, and it's time to celebrate. With your admission to The Farm, enjoy photos with Gary, a special treat for donations and alpaca kisses. Gary is a trained therapy animal and visits schools and hospitals where he turns smiles into frowns. Join Gary, and all the other animals at The Farm, from 11 am to 1 pm for this special celebration!
---
FREE INTERIOR DESIGN CLASSES at Down to Earth at Gardner Village
Sep 10, 2015
Thru
Sep 12, 2015
Learn how to design your room with the experts at Down to Earth. You'll quickly learn tips for accessorizing your home for fall, Halloween and Thanksgiving. Classes will be held September 10th at 7pm and September 12th at 10am. Call Down to Earth at 801.984.4105 for more details and to reserve your space. Space is limited and will fill up fast.
---
FURNITURE PAINTING CLASS at Aunt Elsie's Trinkets & Treasures at Gardner Village
Sep 26, 2015
Painting furniture quandary...where to begin? Aunt Elsie's can help! Join them for a "how to paint furniture class" on Saturday, September 26 at 8:30am. They'll be using their popular Rethunk Junk chalk painting line, designed specifically for painting enthusiasts. Cost is $75 and includes all supplies. Bring a small project to paint, such as a small side table, bread box, child's chair or something you can easily carry. Space is limited to the first 10 people. Visit or call Aunt Elsie's at 801.561.5557 to reserve your spot.
---
LABOR DAY WEEKEND SALE at Gardner Village
Sep 03, 2015
Thru
Sep 07, 2015
Shop local this Labor Day Weekend and discover all that Gardner Village has to offer. With sales galore, you won't leave without finding some new treasure to love. Shops will be open from 10am to 8pm. Shop local. Shop happy.
---
FREE CLASS WITH PURCHASE OF SUPPLIES at Kamille's at Gardner Village
Sep 01, 2015
Thru
Sep 30, 2015
Have you ever wanted to learn how to knit or crochet? Throughout September all of Kamille's classes are FREE with the purchase of your supplies. Please go to
Kamille's website
to see the entire class schedule! Call 801.282.0477 to sign up. Let Kamille's teach you something you'll love for the rest of your life!
---
NOW REGISTERING FOR THE WITCHES BREW HA! HA! 5K FUN RUN/WALK at Gardner Village
Sep 01, 2015
Thru
Oct 02, 2015
Ready for a witchy workout? Walk, run or wander a bewitching course at the Third Annual Witches Brew Ha! Ha! 5k run/walk on Friday, October 2, 2015. Don your witchy wardrobe, grab some glow sticks and enjoy hot cocoa & cider, treats, t-shirts, finisher medals and race giveaways. Special awards for the best costumes. Check in begins at 6:30 pm and the run begins at 8 pm. Hosted by Lone Peak Events. For more information and to register
go here.
Register by September 1st, 2015 and save 10% by using the code: GVWITCH.
---
WITCHAPALOOZA AND BREAKFAST WITH A WITCH TICKETS GO ON SALE at The Gathering Place at Gardner Village
Sep 01, 2015
The bewitching hour is near! Tickets for the
Witchapalooza Music Dinner Theater
and
Breakfast With A Witch
go on sale Saturday, August 1, 2015 at noon.
The Lyin', The Witch & The Warlock
, this year's music dinner show, is a fun-filled evening of amazing music, witchy fun and a delicious dinner. Tickets start at $19 for show only and $30.95 for show and dinner. Breakfast with a Witch is a delightful way to celebrate the season with your wee ones. This year's show is,
Pirates of the Scare-a-bbean.
Batten down the hatches and set sail with the Gardner Village witches as they entertain, mingle, sign autograph sheets and take photos with your children! Tickets start at $13. Book your tickets early, as all shows do sell out.
Buy tickets here August 1, 2015 at noon.
---
WITCH DISPLAYS OUT & WITCH SCAVENGER HUNT at Gardner Village
Sep 18, 2015
Thru
Oct 31, 2015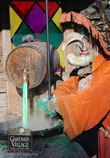 Enjoy everything brewing at our annual WitchFest. Cackle with glee as you and your family join us this fall. Join the fun with our larger-than-life witch displays. Get bewitched as you snap and share your photos and complete the witch scavenger hunt. #gardnervillage #gardnervillagewitchfest. These plump, green-faced, wart-covered, wacky beauties are dressed to the nines in their witchy best ready to warm your heart. So pull out your broom, and grab your favorite black cat or beloved toad to brew up the best season ever.
---
SIX HAGS WITCHES ADVENTURE at Gardner Village
Sep 18, 2015
Thru
Oct 31, 2015
Begin your adventure with a witch-guided tour through Cricket Hollow Swamp where you'll see where our witches live. They're brewing up all kinds of fun in their humble dwelling. Then work your witchy wiggles out on a giant pillow, climb through spider webs, crawl through the Maze of Mayhem, or take a dip in the Candy Corn Pool. Cost is $6 for 1 year old and above. Includes all activities.
Six Hags Witches Adventure will be open September 18, 19, 25 & 26 from 11am to 8pm. October hours are Monday through Thursday 11am to 7pm, Friday and Saturday 11am to 8pm and Halloween, October 31st from 11am to 4pm.
---