Select a month to see what's happening at Gardner Village.
JANUARY
FEBRUARY
MARCH
APRIL
MAY
JUNE
JULY
AUGUST
SEPTEMBER
OCTOBER
NOVEMBER
DECEMBER
FALL SALE at CF Home, Down to Earth and The Village Quilt Shop at Gardner Village
Sep 01, 2014 Thru Sep 27, 2014
The colorful leaves will be falling which makes autumn the ideal time to treat yourself to a carefree day of shopping, dining and discovery. Wind your way through the Village and find savings for this cozy season at CF Home, Down to Earth and The Village Quilt Shop during their annual Fall Sale. While you're here, stop by Archibald's Restaurant or Naborhood Bakery and enjoy lunch, dinner or a sweet treat to top off your day! Shop and relax with us. View their Fall Sale Catalog here.
---

Sep 01, 2014 Thru Sep 30, 2014

---
PETTING ZOO & PONY RIDES AT The Farm at Gardner Village
Sep 17, 2014 Thru Sep 30, 2014

They're back! Giddy up and get up close and personal with some of your favorite farm animals at this fun petting zoo. Take a pony ride. The Farm at Gardner Village is back. Pony rides start at $5 and the petting zoo is $5. Adults are free with a paid child. Open during Gardner Village business hours, Monday through Saturday, weather permitting. Hand-washing stations available. For more information, contact The Farm at 801.706.8189.
---
LABOR DAY WEEKEND SALE at Gardner Village
Sep 01, 2014
Shop local this Labor Day Weekend and discover what Gardner Village has to offer. With sales galore, we doubt you'll leave without finding something you love. Shops will be open from 10am to 8pm throughout the weekend and Archibald's will be open from 11am to 8pm on Monday. Shop local. Shop happy.
---
NOW REGISTERING FOR THE WITCHES BREW HA! HA! 5K FUN RUN/WALK at Gardner Village
Sep 01, 2014 Thru Oct 03, 2014

Ready for a witchy workout? Walk, run or wander a bewitching course at the Second Annual Witches Brew Ha! Ha! 5k run/walk on Friday, October 3, 2014. Don your witchy wardrobe, grab some glow sticks and enjoy food, t-shirts, finisher medals and race giveaways totaling over $2,000. Special awards for the top 5 costumes at the new "post-run Brew Ha! Ha! awards ceremony." Check in begins at 6:30 pm and the run begins at 8 pm. Hosted by Lone Peak Events. For more information and to register go here. Register by August 1st, 2014 for a special $8 discount.
---
SHOW ME YOUR NEW PURSE at Posh Peddler at Gardner Village
Sep 01, 2014 Thru Sep 30, 2014

Purses are a girl's best friend. You can never have too many! Now that the new season's coming, you're going to need a new purse to match the changing seasons. Save $5 on any regular-priced purse at Posh Peddler all through September.
---
BACK-TO-SCHOOL SHOE SALE at Shopaholics at Gardner Village
Sep 01, 2014 Thru Sep 30, 2014

What better way to get ready for school than with a new pair of shoes? Shoes are a girl's favorite accessory and can really make or break an outfit. Go back to school in style this September and take $5 off any regular-priced shoes at Shopaholics.
---
LOVE MY LEGGINS at Plum Dandy at Gardner Village
Sep 01, 2014 Thru Sep 30, 2014

Who doesn't love leggings? They're the ultimate outfit item because they're comfy AND cute. We want you to love your leggins as much as we do, so when you buy one pair at Plum Dandy, get the second pair half off! This deal runs throughout September.
---
UPHOLSTERY SALE at Down to Earth at Gardner Village
Sep 01, 2014 Thru Sep 30, 2014

New upholstery has arrived at Down to Earth and it's all on SALE! Come in and see all of new custom fabrics and unique styles and receive 30% off all stock and special order upholstery. Get your home ready for the upcoming season with new items from Rowe Furniture Gallery. Down to Earth can help you accent a room in your home or start over from scratch with new fabrics for a classic, vintage or modern feel.
---
FREE CLASS WITH PURCHASE OF SUPPLIES at Kamille's at Gardner Village
Sep 01, 2014 Thru Sep 30, 2014

Have you ever wanted to learn how to knit or crochet? Throughout the month of September all of Kamille's classes are FREE with the purchase of your supplies. Please go to Kamille's website to see the entire class schedule! Call 801.282.0477 to sign up. Let Kamille's teach you something you'll love for the rest of your life!
---
WASATCH FRONT FARMERS MARKET at Gardner Village
Sep 06, 2014 Thru Sep 27, 2014

Tomatoes so red they are bursting with flavor and strawberries so delicious you'll eat half of them before you get home... The Wasatch Front Farmers Market is excited to call Gardner Village home again every Saturday starting June 7th through October 25th from 9 am to 1 pm.

Besides homegrown fruits and vegetables, you'll find live music, farmers, food artisans, artists, a Kids' Market, face painting, balloon artists and even a petting zoo! Mark your calendar because this isn't just a farmers' market, it's a destination that supports local entrepreneurs and the community in your backyard! For more information, please visit their website, find them on Facebook, or call at 801.792.1419. To apply to be a vendor or for more information, please click here.
---
WITCH SCAVENGER HUNT at Gardner Village
Sep 12, 2014 Thru Oct 31, 2014

The witches will be lurking around Gardner Village, and it's your job to find them on our annual Savenger Hunt. Once you find them, kids 12 and under, can take their completed form to the Naborhood Bakery to receive a delicious chocolate chip cookie for only 35˘ (reg. price 95˘). Looking for a group activity? Spend an evening doing the hunt then step inside one of our eateries for a sweet treat to top off your activity. (The caramel apples are delicious at Chocolate Covered Wagon.) Print your Witch Scavenger Hunt forms here.
---
WITCHAPALOOZA AND BREAKFAST WITH A WITCH TICKETS GO ON SALE at The Gathering Place at Gardner Village
Sep 01, 2014
The bewitching hour is near! Tickets for the Witchapalooza Dinner Theater and Breakfast With A Witch: The Carnival of Witches go on sale August 1, 2014. Enjoy our infamous dinner theater, filled with delicious food, delightful live music and witchy fun at this year's new show The Lyin', The Witch & The Warlock. Be one of the first to see this show! Step right up with your little warlocks and witches for Breakfast with a Witch: Carnival of Witches where you can dine with the amazing Gardner Village witches as they entertain, mingle, sign autograph sheets and take photos with your little ones! Get busy booking your tickets, as all shows do sell out quickly! Buy tickets here.
---
WITCH DISPLAYS OUT at Gardner Village
Sep 12, 2014 Thru Oct 31, 2014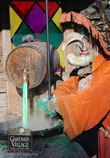 The witches are out and ready to play for WitchFest 2014. You'll get bewitched as you snap and share your photos. #gardnervillage #gardnervillagewitchfest. These plump, green-faced, wart-covered, wacky witches in their witchy attire are ready to warm your heart. Bring the kids, the camera and spend the day at this annual tradition.
---
BE-WITCHED BOOTIQUE AND GLITTER & SPIDER EYES at Gardner Village
Sep 18, 2014 Thru Oct 31, 2014

Watch out! The Be-witched Bootique is back. The witches have combed the West to bring you the best! You'll find a wickedly-fantastic assortment of dazzling witch hats, costumes, jewelry and witchy glitter to enhance adult and children's costumes. Be-witched Bootique even has witchy DOG costumes. Come as you are and leave bewitched. Be-witched Bootique is located across from Storybook Nook.

Be-witched Bootique will also be offering glitter and spider eyes starting September 18th! Get decked out in glitter every Thursday, Friday and Saturday all day until the end of October. It's $5 per person and you can choose between beautiful swirls or amazing spider webs for girls and boys. For more information call Kamille's at 801.282.0477. Join the Be-witched Bootique for their fifth year of glitter and spider eyes. It's going to be the best one yet!
---
NEW EVENT! WEE WITCHES PLAYGROUND at Gardner Village
Sep 19, 2014 Thru Oct 30, 2014

Red rover, red rover, you'd better head over. Gardner Village has something new this October. Let your little ghouls jump on a giant pillow, climb enchanting spider webs, crawl through the Maze of Mayhem, dance in the witches disco or take a dip in the Candy Corn Pool. Find more toil and trouble as our real-life witches roam about Cricket Hollow Swamp and give your wee ones handy hints about being a witch. $6 per person 1 year old and above. Includes all activities and 1 pillow jump. Additional pillow jumps $2. Visit the playground Monday-Thursday, 10am to 6pm and Friday-Saturday, 10am to 8pm, September 19-October 30.
---