Gardner Village Events & Sales
Select a month to see what's happening at Gardner Village.
JANUARY
FEBRUARY
MARCH
APRIL
MAY
JUNE
JULY
AUGUST
SEPTEMBER
OCTOBER
NOVEMBER
DECEMBER
WITCHAPALOOZA AND BREAKFAST WITH A WITCH TICKETS NOW ON SALE at The Gathering Place at Gardner Village
Sep 01, 2016
Enjoy
Breakfast with a Witch
, a morning of tricks and treats with our Gardner Village Witches. This year we summon all wizards, witches and warlocks to come in costume and enjoy cheering for your favorite team as we create the magic of wizardry. Tickets start at $14.
Prepare yourself for Salt Lake's quirkiest night out with
Witchapalooza Dinner Theater.
For those with a wicked sense of humor, a flair for fantastic food, and a passion for great entertainment, this novelty night out is sure to tickle your funny bone. Featuring some of Utah's top musicians and actors, Witchpalooza is a great way to celebrate the haunts of Halloween! Tickets start at $19 for show only and $31.95 for show and dinner.
Tickets for all shows went on sale Monday, August 1, 2016 at noon
here
. Book your tickets early, as all shows do sell out.
---
PAINTING CLASSES & PARTIES at The Art Cottage at Gardner Village
Sep 01, 2016
Thru
Sep 30, 2016
Paint brushes and canvas and paint! Oh my! Welcome to Gardner Village's newest shop: The Art Cottage. The Art Cottage is now offering the visual and hands on experience of art to those of all ages. Enjoy children's classes, watercolor, paint nights, coloring clubs and date nights. Contact The Art Cottage to schedule your fun at 801.561.1372.
---
FRANCIS FAMILY FARMS FRUIT & VEGGIE MARKET at Gardner Village
Sep 03, 2016
Thru
Oct 24, 2016
Francis Family Farms invites you to step back in time when life was simple and food was grown and sold locally. As a family-run farm located just blocks from Gardner Village, you'll enjoy a variety of their locally-grown fresh, seasonal fruits and veggies each Saturday morning from 9am to 1pm in the center court area of Gardner Village. For weekly updates and additional market information, please visit Francis Family Farm's
Facebook page.
Fruit and veggie selection will vary weekly based on what's in season.
---
FAIRY TEA PARTIES at Georgell Doll Shop at Gardner Village
Sep 01, 2016
Thru
Sep 05, 2016
When was the last time your little girl dressed for a tea party? Let your little ones indulge at
Georgell Doll Shop's
Dolly & Me Fairy Garden Tea. Tiny Desserts on tiny dishes and a fairy doll to take home. Dress up hats and aprons are available for proper tea attire. All served on the fairy garden patio at Georgell Doll Shop with a collection of fairy houses to explore. Tea is served every Friday and Saturday from 11am to 4pm June 4th through Labor Day, September 5, 2016. $20 per guest. Reservations are encouraged for a fun, fanciful afternoon, and walk-ins are welcome based on availability. Call Georgell Doll Shop at 801.561.1485 for information and to make reservations.
---
WITCHES WARDROBE at Shopaholics at Gardner Village
Sep 01, 2016
Thru
Sep 30, 2016
Feeling witchy? Witches Wardrobe is now at Shopaholics until Halloween. Shopaholics is opening their closet with hats, costumes, capes and more. Fly in for great buys, selection and a frightful good time!
---
BE-WITCHED BOOTIQUE at Kamilles at Gardner Village
Sep 01, 2016
Thru
Sep 30, 2016
The lower level of Kamille's has been magically transformed into the Be-Witched Bootique just in time for Halloween and WitchFest 2016 at Gardner Village! This hocus-pocus means they now have the best assortment of witch and warlock attire in the state, from modestly-priced to high-end attire.
Don't worry, Kamille's regular inventory can still be found on their second floor while Be-Witched Bootique is running.
---
WITCH DISPLAYS OUT & WITCH SCAVENGER HUNT at Gardner Village
Sep 17, 2016
Thru
Oct 31, 2016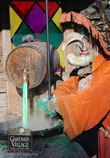 The broomsticks have landed and the witches have set up shop. Take a witchy walk through Gardner Village to see our green-faced gals on display. Which witch is which? Print a Scavenger Hunt form to hunt for our cackling cuties. See how many you can find and snap a few pics of your scavenger shenanigans to share using hashtags #gardnervillage and #findawitch. We'd love to see you on the Halloween scene!
Print your scavenger hunt form here.
---
SIX HAGS WITCHES ADVENTURE at Gardner Village
Sep 24, 2016
Thru
Oct 31, 2016
Add a witchy adventure to the "treat bag" this year, with a visit to Six Hags. Our enchanting Gardner Village Witches are ready to show you a trick or two as you tour their hangout of happy haunts, the place they call home. Stir up a cauldron of witchy brew, take a trip to the Night Spa, or get caught up in giant Spider Webs. Lose yourself in the Maze of Mayhem, take a dip in the Candy Corn Pool, or jump the night away on the monstrous pillow! It's guaranteed to put a sweet taste in your mouth! Cost is $6 per person, 1 year old and above.
Six Hags Witches Adventure will be open September 23, 24 & 30, 10am to 8pm and then during October, Monday through Thursday, 10am to 7pm and Friday and Saturday 10am to 8pm. Six Hags will be open from 10am to 4pm on Halloween, October 31, 2016. Closed Sundays.
Please note: Six Hags will delay its opening til Saturday, September 24th due to weather. It will NOT be open September 23rd as planned due to rain.
---
FALL SALE at CF Home, Down to Earth and The Village Quilt Shop at Gardner Village
Sep 01, 2016
Thru
Oct 01, 2016
The colorful leaves will be falling which makes autumn the ideal time to treat yourself to a carefree day of shopping, dining and discovery. Wind your way through the Village and find savings on the most beautiful new collections of furniture, rugs, bedding and home accessories at CF Home, Down to Earth and The Village Quilt Shop during their annual Fall Sale. Fall is a great time to make your home more beautiful for the holiday entertaining ahead. While you're here, stop by Archibald's Restaurant or Naborhood Bakery and enjoy lunch, dinner or a sweet treat to top off your day! Shop and enjoy this cool and cozy season with us.
View our Fall Sale catalog
here
.
---