All Events > Shop & Restaurant Promotions
October Shop & Restaurant Promotions
Select a month to see what's happening at Gardner Village.
JANUARY
FEBRUARY
MARCH
APRIL
MAY
JUNE
JULY
AUGUST
SEPTEMBER
OCTOBER
NOVEMBER
DECEMBER
---
HOLIDAY GIFT BASKETSOct 02, 2017
Thru
Dec 30, 2017
We're coming up on the holiday season! Pre-order a Mug of Macarons, Bread Board, Assorted Pastry or Cookie gift baskets for your friends and loved ones. Pre-designed baskets range from $19-$40 and are available to order now at Naborhood Bakery and Café. Baskets can be picked up during the last two weeks of November and throughout December. For more information, please call 801.566.8808.
---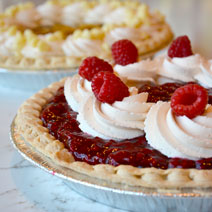 HOLIDAY PIESOct 02, 2017
Thru
Dec 30, 2017
How good would it feel to be given a pie this holiday season? Gift that feeling to your friends and loved ones! While you're at it, bring one home for your Thanksgiving or Christmas party. Pre-order your holiday pies from the Naborhood Bakery and Cafe now through December 30. Flavors include pumpkin, raspberry cream, coconut cream and chocolate cream. Pies are nine inches and cost $15.99. Call 801.566.8808 to order.
---
SOCK CITY
STORE-WIDE SALEOct 02, 2017
Thru
Oct 31, 2017
Every pair of socks from Sock City can start a conversation. This month, Sock City has a deal you don't want to miss! Socks will be 25-50% off storewide with thousands of different pairs to choose from for every taste and style. This offer is valid only at Sock City's Gardner Village location, and you don't need a coupon to receive the deal!
---
PLUM DANDY
HALLOWEEN SALEOct 02, 2017
Thru
Oct 31, 2017
It's the most spooktacular time of the year! Plum Dandy is offering 20% OFF all capes, costumes, hats and Halloween accessories to make your festivities a little more bewitching.
---
COTTAGE RETREAT DAY SPA
PUMPKIN SPA COMBOOct 02, 2017
Thru
Oct 31, 2017
Cottage Retreat Day Spa is offering the Pumpkin Spa Manicure and Pedicure Combo for $80 during October. This offer is valued at $90. Start off your mani and pedi with a soak. Next, your nails and cuticles will receive the care they need by shaping, filing, and trimming them to the look you desire. A pumpkin scented sugar scrub and enzyme masque with hot towels will help exfoliate and soften your hands and feet. This is followed by a soothing pumpkin lotion hand and foot massage. Finally, we top off the treatment with your choice polish. Gel polish can be added for $15.
---
WILLOW HILL YARN COMPANY
FREE CLASSES Oct 02, 2017
Thru
Oct 31, 2017
Get those knitting needles out! Willow Hill Yarn Company is offering a deal you won't want to miss. For the months of September and October, all classes will be free with the purchase of the yarn needed for each class. New yarn and free instruction?! We can't think of anything better.
---
SHOPAHOLICS CLOTHING
WITCHES WARDROBE BOUTIQUEOct 02, 2017
Thru
Oct 31, 2017
Feeling witchy? Witches Wardrobe is now at Shopaholics until Halloween. Shopaholics is opening their closet with hats, costumes, capes and bewitching accessories. Fly in for great buys, selection and a frightfully good time!
---
SPOILED ROTTEN CHILDREN'S BOUTIQUE
SCHOOL OF SPELLSOct 02, 2017
Thru
Oct 31, 2017
Calling all witches and warlocks to refresh their spell skills and learn some new ones. Spoiled Rotten is offering FREE Spell Classes every Saturday during October. Classes are held throughout the day, weather permitting, and last approximately 15 minutes per class. Class hours will be posted outside of the store each week. No reservations are required. For more information, call Spoiled Rotten Children's Boutique at 385.355.0030.
---