All Events > Gardner Village Events
DECEMBER Gardner Village Events
Select a month to see what's happening at Gardner Village.
JANUARY
FEBRUARY
MARCH
APRIL
MAY
JUNE
JULY
AUGUST
SEPTEMBER
OCTOBER
NOVEMBER
DECEMBER
---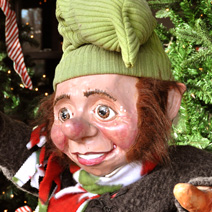 ELF DISPLAYS & ELF SCAVENGER HUNT
GARDNER VILLAGEDec 01, 2018
Thru
Dec 31, 2018
You don't need a ticket on the Polar Express to see Santa's magic in action. Gardner Village brings the North Pole to you with our whimsical elf displays. See Santa's helpers at work, testing toys, sorting letters addressed to Mr. Claus, and maintaining those all-important Naughty and Nice lists. (Where does your name fall?) For added festivity, turn your enchanted elf tour into a game by downloading our Elf Scavenger Hunt form here beginning November 17, 2018. It outlines a full list of mischievous elf displays waiting to be discovered. Take a sneak peek at our little elves
here.
---
SANTA 5K RUN
GARDNER VILLAGEDec 01, 2018
Whether you take the freeway or a side street, you're going to want to run, run, Rudolph. After all, Santa has to make it to town for the Utah Santa Run on Saturday, December 1, 2018 at 9am. The Santa Run is for all good little girls and boys, young and old, to come dressed in their Santa best (Santa suits included with the registration fee), and enjoy a brisk race through a wintery wonderland. Cookies and milk will be waiting for those of you whose names end up on our 'nice' list. Presented and organized by On Hill Events. For additional race details and to register, visit
here
.
---
BREAKFAST WITH SANTA
MILL PLAZADec 01, 2018
Thru
Dec 22, 2018
This holiday season, treat your family to a magical morning in a charming setting as the Mill Plaza at Gardner Village presents Breakfast with Santa. Children will enjoy a visit with St. Nick, a yummy buffet breakfast, music, an activity, plus a special surprise visitor all on the Mill Plaza! Bring your camera to capture photos of the fun! Make lasting memories and traditions this year at Gardner Village. Breakfast with Santa will be held November 30, December 1, 7, 8, 14, 15, 20, 21 & 22, 2018 with 8:30 am and 10:30 am seatings, $25 per person. Buy tickets
here
now.
---
HOLIDAY SALE
GARDNER VILLAGEDec 01, 2018
Thru
Dec 31, 2018
Our stores are brimming with beautiful holiday decor, amazing furniture and accessories that will make your home a cozy place to enjoy the holidays with family and friends. The annual Holiday Sale is going on November 19 through December 29. While you're here, visit
CF Home
,
Down to Earth
and
Layers Beautiful Bedding
at Gardner Village for great savings, unique merchandise and a relaxed holiday atmosphere. The personalized service is sure to put you in the Christmas spirit!
---
CHRISTMAS STORYTIME
GEORGELL DOLL SHOP
Dec 01, 2018 Thru Dec 22, 2018
Join Mrs. Claus for fun stories from the North Pole every Thursday and Saturday during December from 6pm-8pm at Georgell Doll Shop. Each story lasts about 15 minutes and there's no fee to participate. Mom and dad will enjoy shopping while the wee ones sit back and enjoy.
---