All Events > Gardner Village Events
DECEMBER Gardner Village Events
Select a month to see what's happening at Gardner Village.
JANUARY
FEBRUARY
MARCH
APRIL
MAY
JUNE
JULY
AUGUST
SEPTEMBER
OCTOBER
NOVEMBER
DECEMBER
---
ELF DISPLAYS & ELF SCAVENGER HUNT
GARDNER VILLAGEDec 01, 2018
Thru
Dec 24, 2018
You don't need a ticket on the Polar Express to see Santa's magic in action. Gardner Village brings the North Pole to you with our whimsical elf displays. See Santa's helpers at work, testing toys, sorting letters addressed to Mr. Claus, and maintaining those all-important Naughty and Nice lists. (Where does your name fall?) For added festivity, turn your enchanted elf tour into a game by downloading our Elf Scavenger Hunt form here beginning November 17, 2018. It outlines a full list of mischievous elf displays waiting to be discovered. And don't forget to document your elf encounters. Snap an elf selfie and share it on Instagram using the hashtag #elfieselfie and #findanelf. Take a sneak peek at our little elves
here.
---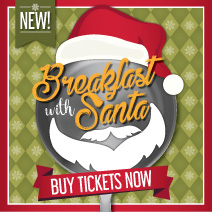 BREAKFAST WITH SANTA
MILL PLAZADec 01, 2018
Thru
Dec 22, 2018
This holiday season, treat your family to a magical morning in a charming setting as the
Mill Plaza
at Gardner Village presents Breakfast with Santa. Children will enjoy a visit with St. Nick, a yummy buffet breakfast, music, an activity, plus a different special surprise visitor all under a big white tent on the plaza! Bring your camera to capture photos of the fun! Make lasting memories and traditions this year at the newest venue at Gardner Village. Breakfast will be held Saturday mornings in December with select seatings at 8:30 and 11:00 on December 1, 8, 15 and 22. $24 per person. Buy tickets beginning October 1, 2018 at noon.
---